A Retail Experience Like No Other
Woof Gang Bakery & Grooming
From the moment our furry best friends walk through the door, it is love at first sight with our irresistible, all-natural treats and all-natural meat chews, both of which are featured in our iconic pink bucket farmer's markets. 
It's the only place where dogs can do the shopping! 
Pet Product News
Independent Trailblazer
Retailer of the Year
2022-2023
Want to know more about
Our Famous
Pink Buckets?
Want to know more about
Our Famous
Pink Buckets?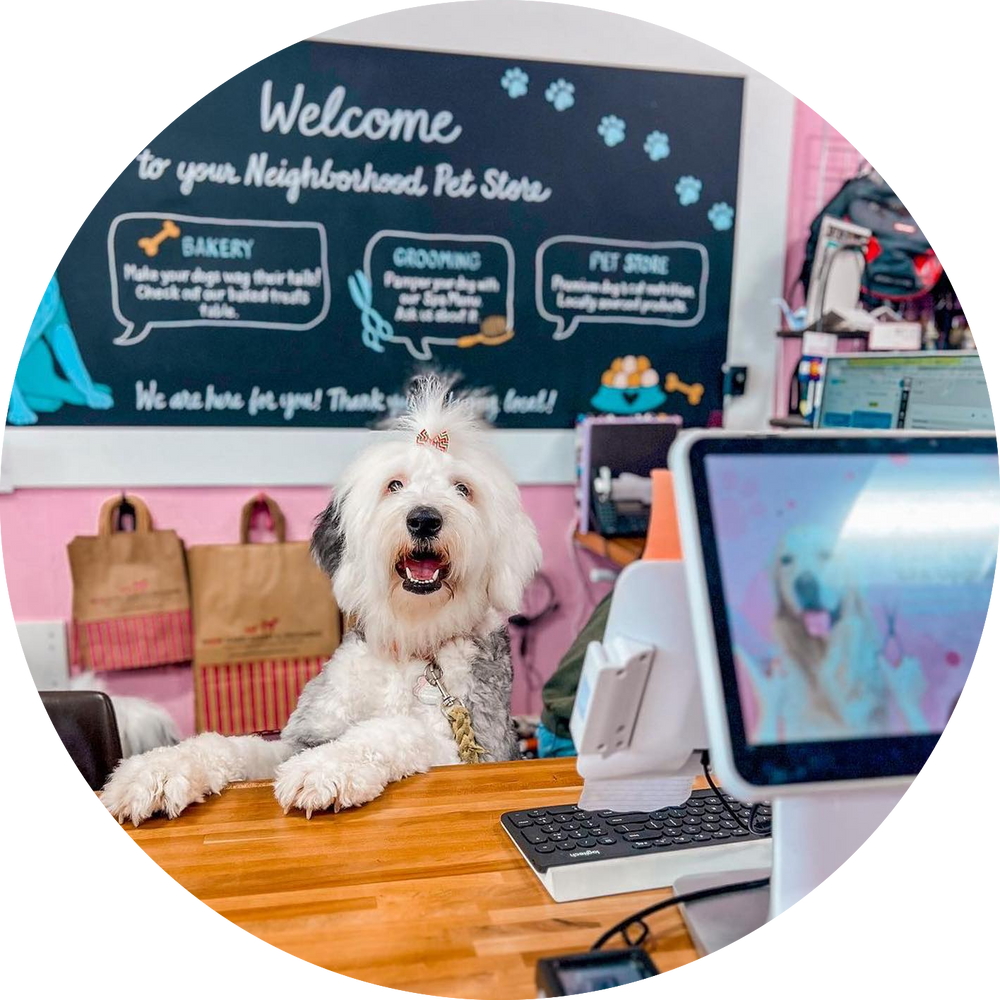 Our Approach
A Wholesome Haven for Pets
Our Approach
A Wholesome Haven for Pets
At Woof Gang Bakery and Grooming, we believe that shopping for your furry companion should be more than just a routine errand. It should be a delightful journey!
We've curated a retail space that reflects our dedication to quality, health, and happiness. Every product on our shelves is thoughtfully selected to meet the diverse needs of pets while ensuring they receive the utmost care, nutrition, and enjoyment.
Tailored Treasures for
Every Furry Friend
Step into our retail haven, and you'll discover a treasure trove of pet-centric delights that cater to dogs and cats of all shapes, sizes, and tastes. From premium pet food options to tantalizing treats, and a wide array of pet care essentials, our store is a one-stop destination for all your pet's needs.
All-Natural Treats
Indulge your pet with our delectable, oven-baked treats crafted from all-natural ingredients. Each treat is a testament to our commitment to providing delicious rewards that not only taste amazing but also contribute to your pet's overall well-being.
Nutritious Pet Food
Our shelves are stocked with a meticulously chosen assortment of high-quality pet foods that prioritize nutrition and health. Whether your pet thrives on kibble, canned food, or raw diets, we have options that cater to their dietary preferences and specific needs. Some of our featured food brands are Fromm, Acana, Orijen, Zignature, Primal, Stella & Chewys and more!
Chews for Champs
Explore a variety of all-natural chews that satisfy your pet's instinct to chew while promoting dental health and mental stimulation. From durable bully sticks to mineral-rich antlers, our selection offers benefits that go beyond taste.
Toys & Accessories
Elevate playtime with our collection of toys designed to engage, entertain, and enrich your pet's life. Additionally, our range of accessories includes collars, leashes, and grooming essentials to keep your pet looking and feeling their best.
Health & Wellness
Discover a range of supplements and products designed to support your pet's overall health and well-being. Whether it's joint care, dental hygiene, or skin and coat maintenance, we have solutions to help your furry friend thrive.
Guidance from Experts
Our knowledgeable team is passionate about pets and well-equipped to guide you in selecting products that align with your pet's individual needs and preferences. We're here to answer questions, provide recommendations, and ensure your shopping experience is as joyful as it is informative.
Visit one of our stores today, where the love we have for pets is palpable in every product we offer. With our diverse and carefully curated selection, your pet will experience a shopping spree that's both enjoyable and tailored to their unique requirements. Because to us, retail is not just about products. It's about nurturing the special bond you share with your furry friend.
Find a Store
×
At the heart of our retail experience are our iconic pink buckets — a testament to our commitment to ensuring that every pet feels like the VIP they truly are. These cheerful, vibrant buckets are more than just containers. They are a ticket to a shopping spree tailored to your furry friend's preferences. As your canine companion roams our aisles, the magic happens. Their excitement and curiosity lead the way as they explore an array of all-natural treats, premium pet foods, and delightful accessories. Each pink bucket is an invitation for dogs to shop alongside their owners, adding a touch of interactivity and tail-wagging joy to the retail experience.
At Woof Gang, every wag and purr find their perfect match! Our commitment to the well-being and happiness of pets extends beyond our grooming services. It's ingrained in every facet of our retail experience.